Voice & Data Network Cabling
ComRes is a Premier South Florida Voice & Data Network Cabling Company.  We specialize in the installation of all types of network cabling including CAT3 CAT5 & CAT6. Whether you need a single cable drop, DMARC extension, or need to cable the entire office we can handle it all!
Call Us Today@ 954-462-9600
Voice & Data Network Cabling Wiring Installations
ComRes specializes in the design, installation and service of structured wire cabling systems that support tele-communications networks. At ComRes, we understand how your technology infrastructure impacts your business. We'll meet with you to assess your company's current and future networking requirements, educate you on the latest structured wire cabling technologies, explain your options and design a high-quality, cost-effective cable system that works for you.
Building a sound technology infrastructure starts with your cabling.
If you want piece-of-mind that your IT systems and technology will run smoothly, ComRes has a variety of racks, patch panels, cable management and cable technologies to choose from. Your new cabling system will be installed professionally by ComRes employees to ensure consistency, and that each cable is tested, toned and labeled according to manufacturer specifications. For added assurance, you can request an optional certification on all or some of the cables to ensure that they are installed with the highest level of quality.
Certified Network Cabling / Wiring
ComRes combines years of experience from our Communications Distribution Designers and Telecommunications Layout Technicians with our proven project management methodologies to create world class, cost-effective structured cabling systems that support your Companies critical applications. ComRes holds a rare Florida Statewide "Specialty Electrical Contractor" license.  We only use quality Plenum cabling and UL rated hardware, and all ComRes phone and computer cabling comes with a FREE 15 – Year Warranty!
Voice & Data Network Cabling Services
Structured Cabling
Office Network Cabling
Computer Network Cabling
VoIP Cabling
Business Ethernet Cabling
Category 5e Cabling
Category 6 Cabling & Wiring
Voice & Data Cabling
Fiber installation (Multi-Mode and Single Mode)
LAN Cabling / Wiring
(CATV) Coax TV Cabling
(CCTV)  Closed Circuit Surveillance and Security Cabling
Wireless Infrastructure
Toning/Testing/Labeling of existing cabling
Project Management
Aventura, FL Cabling Services
Boca Raton, FL Cabling Services
Miami, FL Cabling Services
Oakland Park, FL Cabling Services
Plantation, FL Cabling Services
Pompano Beach, FL Cabling Services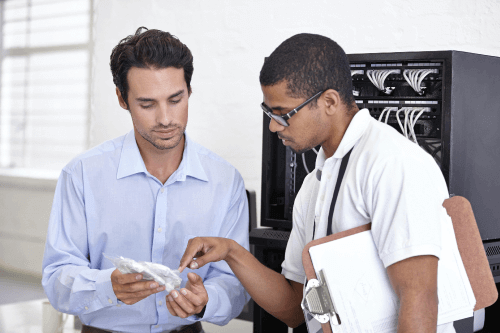 Choosing The Right Type Of Cabling
You may not understand whether you need Cat 5e, Cat 6, Cat 6e, Plenum (low smoke) or PVC cabling. ComRes engineers will help you understand the technical choices you have and how to choose the best one for your Voice & Data Network Cabling installation.
We ensure your technology will run efficiently since ComRes cabling is installed correctly and tested rigorously to make sure that you do not have costly service issues.
CATV (Co-Axial or TV) Cable
Many businesses now want to install TV's or monitors throughout their office for broadcast video, presentations or other media. If your business is in need of implementing or replacing its TV/media cabling, then ComRes can supply a variety of RG6 and RG59 cabling, with either Plenum (low smoke) or PVC cabling.

Fiber
For larger installations or long distances, you may find the need for multimode or single mode fiber to accommodate your data needs. ComRes carries a full line of fiber products include fiber patch panels and fiber patch cords from Corning and other manufacturers.
CCTV (Closed Circuit or Security) Cable
When you are ready to install your new surveillance system or simply add a few cameras, call ComRes for a quote on what cabling you will need, and what type will work best. Older cameras may require Coaxial or RJ59, while newer IP cameras run on industry standard Cat 5e or Cat 6. ComRes can help you choose which you need or will work best for your surveillance system.
Contact ComRes today to start saving money on your telecommunications!
| | |
| --- | --- |
| E-mail: | |
| Call: | (877) 379-9600 |
Sign up for our Newsletter!