LAN INFOTECH, MICROSOFT®, PEAK10, COMRES AND WYSE
JOINED FORCES TO HOLD A
WINDOWS 8 PREVIEW EVENT
Fort Lauderdale, FL: November 28th, 2011. LAN Infotech, one of South Florida's fastest growing IT consultancies, held a Technology, Dinner and Ice Hockey event on Wednesday, November 3rd in Sunrise, where they are the preferred IT provider for both the Bank Atlantic Center and the Florida Panthers.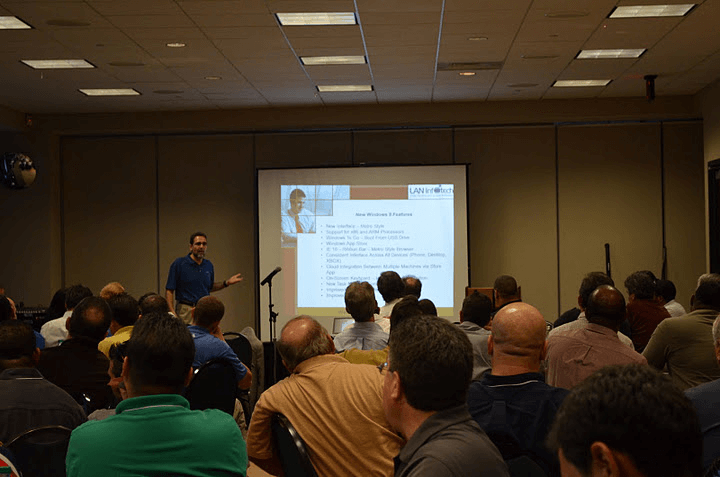 Michael Goldstein, President of LAN Infotech,
Presents to a packed audience at
The BankAtlantic Center
Michael Goldstein, President of LAN Infotech, commenting on the event, said "We invited both clients and prospects and the response was overwhelming. It was a very successful event and for those who were unable to make it, rest assured, we will be running many more like this going forward. In the right setting, combined with great speakers sharing the very latest business technology innovations, it's the perfect formula."
The afternoon kicked off with an introduction by President, Michael Goldstein and was followed by educational sessions from LAN Infotech's strategic partners: Peak10 who discussed Today's Private Cloud, Wyse who spoke about Client Cloud Computing, ComRes presented on Today's Communications Options and the highlight of the evening was from Microsoft who previewed their latest operation system, Windows 8.
Before the presentations, during the breaks and after dinner, delegates were able to walk around the room and learn more about other new IT services on a one-to-one basis. In total there were 9 vendors. The list included: NVoq, Acer, EMC², LiquidWare, CIT Leasing, Peak10, Wyse, Microsoft and ComRes.
Chris White, COO/VP of ComRES was very pleased how the event went and enthused, "This was a wonderful event. It was very well thought out and a lot of great information was given out. All participants seemed to really enjoy themselves. LAN Infotech did a great job with the Windows 8 presentation and I look forward to working with them in the future."
Peak10 also commented on the event. "We enjoyed being a part of the LAN Infotech event and sharing how Peak 10 is providing cloud computing services to the South Florida marketplace," said Stefan Pittinger, the Vice President and General Manager of Peak 10 South Florida. "It was great to share and gain IT expertise from area thought leaders and we look forward to participating in other LAN Infotech events in the future."
Having gained so much value from the afternoon event, attendees were then treated to a wonderful evening of high energy ice hockey, watching a spectacular game between the Florida Panthers vs. Chicago Blackhawks in premier seating, courtesy of LAN Infotech.
For more information on press relations, please contact:
Sharon Phillips
FMI Marketing
Tel: 954- 575 -4973
Email: Sharon@fmi-marketing.com
For more information on technical issues, please contact:
Michael Goldstein
President & CEO
LAN Infotech
5100 NW33rd Avenue, Suite 255
Fort Lauderdale, FL33309
Tel : 954 -717- 1990
Email : mgoldstein@LAN Infotech.com
Website : www.LAN Infotech.com
About LAN Infotech
LAN Infotech is a service provider and IT solutions consultant focusing on delivering affordable business and technology solutions for its clients. We achieve this by our 20+ partner solutions and assess the client's needs and tailor a program accordingly. Our mission is to ensure exceptional return on investment and our mature and experienced team of engineers deploy solutions that range from simple Internet connectivity to business continuity, online managed back up, email archiving, complex support systems, managed services and network level security.
March 2010, LAN Infotech was one of the winners in Business Leader Media's Top 50 Entrepreneur Awards.
LAN Infotech is the preferred IT provider for a number of different clients across a variety of different markets, including Bank Atlantic Center and Florida Panthers.
Contact ComRes today to start saving money on your telecommunications!
| | |
| --- | --- |
| E-mail: | |
| Call: | (877) 379-9600 |
Sign up for our Newsletter!