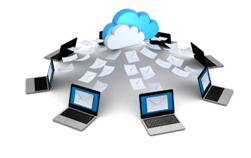 How well is your current email service working for you?  Have you experienced service-affecting outages in the last year that have interrupted your business and prevented you from servicing your customers properly?  Hosted Email Exchange services from ComRes can deliver you an email service that has maximum uptime and reliability!
Does your organization require HIPPA or SAS70 compliant email?  Are you aware of the impact of recent HIPPA compliance changes to your business?  ComRes Hosted Exchange services are fully HIPPA and SAS 70 compliant, and friendly, professional ComRes technicians will guide you through the process of how to implement email encryption and archiving.
Do you have an outdated Microsoft Exchange server in need of upgrading, or are you concerned about email backups?  ComRes Hosted Exchange does not require a server, and always ensures that you are operational with no backups to do and 99.99% uptime!
You do not have to worry about expensive upgrades again, or a smooth transition to hosted email – ComRes technicians will help migrate you to the hosted platform and take advantage of the full complement of exchange features such as SharePoint, SpamStopper, VirusStopper and more.  Maintain backups for up to 7 years and access your email from multiple devices including your smartphone.
NO CAPITAL INVESTMENT, EASY MIGRATION, RICH FEATURES, FULL BACKUPS, AVAILABLE FROM ANYWHERE IN THE WORLD WITH AN INTERNET CONNECTION!
Plans starting for as low as $14.50/month!
Contact ComRes today to start saving money on your telecommunications!
| | |
| --- | --- |
| E-mail: | |
| Call: | (877) 379-9600 |
Sign up for our Newsletter!