CallRex™ Professional
CallRex™ Professional is the leading IP call recording and monitoring solution for IP telephony. CallRex provides 100% call recording, automatic triggered recording, real-time status, live monitoring, and on-demand recording with CallRex Look Back™ to capture the entire discussion at anytime during the call.
Designed with the manager in mind, CallRex enables monitoring, recording and evaluation of individuals and groups customized to match your organization. With CallRex, call recordings are easily searched and retrieved for playback, and can be exported for email, linking to CRM and more.
CallRex is unique. By using innovative packet sniffing technology, CallRex software records and monitor calls without interfering with the IP telephony system. CallRex scales across multiple sites and thousands of users. CallRex software is easy to use and installs in a matter of hours.

CallRex Agent Evaluation™
CallRex Agent Evaluation™ provides an easy and effective way to review and score calls, identify training needs and coach employees for continuous performance.
Designed with the manager in mind, CallRex Agent Evaluation™ enables managers to spend less time reviewing more calls, and creates a process for objective feedback.
CallRex Agent Evaluation™ utilizes CallRex call recordings, provides customized performance standards, and tracks individual and group performance over time.

CallRex Multi-Media™
CallRex Multi-Media™ enhances CallRex™ Professional with computer recording and monitoring ("screen capture") capabilities, enabling managers to track employee computer activity in real-time.
CallRex Multi-Media™ is used to ensure:
Employees understand how to use systems and applications
Use computers for business purposes
Maintain a productive work environment
Follow security procedures
Call Recording System Architecture
CallRex scales from single-server single-site deployments to multiple sites and thousands of users. The CallRex distributed-services software architecture utilizes the WAN infrastructure to link CallRex servers. Multi-site deployements can be managed as a single virtual system from any location. Call recordings can be stored on distributed servers, centralized network storage or archived for later retrieval.
Multi-Site Diagram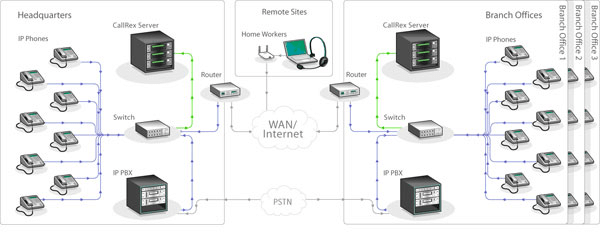 Single-Site Diagram

Contact ComRes today to start saving money on your telecommunications!
| | |
| --- | --- |
| E-mail: | |
| Call: | (877) 379-9600 |
Sign up for our Newsletter!