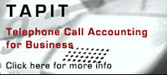 What Is Call Accounting
Call accounting is a software or hardware application that captures and records telephone usage events. Call accounting systems can detect outbound and inbound calls, call ring outs, call routings, abandoned calls, and other activities. The captured data is analyzed, stored in the call accounting systems database, and posted to a variety of enterprise systems. This data can then be organized into various reports for cost management and analysis, for revenue and profitability management, or for phone abuse and toll fraud oversight.
Professional services firms utilize call accounting software for account code or client based billing of their phone usage. The hospitality industry uses call accounting to resell phone services to guests and groups. Corporate entities use call accounting to allocate costs to divisions and departments. Telecommunications professionals use call accounting to support enterprise voice traffic analysis, cost comparisons, carrier invoice reconciliation and for monitoring phone misuse and abuse. Internationally call accounting may be referred to as call logging.
---
Call accounting by TAPIT EX
New Features of TAPIT EX:
Depending(!) on your telephone system, TAPIT EX now supports additional fields: IP addresses, multiple extension fields, multiple trunk fields, on-hold duration, ring duration, DNIS field and more.
New special reports (i.e. abandoned calls, on-hold time and ring time reports).
Transferred Call and Station to Station reporting.
DNIS reporting.
Voice over IP reporting.
Tapit Web Reports (included with TAPIT EX Multi-User version) – enables users to view reports on the Internet.
Trunk Analysis Reports (part of TAPIT Web Reports) consist of: All Trunks Busy, Daily Trunk Status, Peak Hour Activity by Trunk, Trunk Group Summary by Hour/Date, Trunk Summary by Hour/Date, Trunk Detail Activity by Date/Hour. To view Tapit Web Reports demo click here.
TAPIT EX and TAPIT Remote Manager can process text files multiple times a day. When working with Remote Manager user can create consolidated reports on 30 most active extensions, account codes or telephone numbers.
Incoming calls pricing option.
TAPIT Pricing has the ability to price DNIS, IP Address and Trunk records.
The Systems Parameters screen is expanded to make the application tune up easier.
Dialing Patterns accommodates DNIS numbers, Authorization Codes and Matter Codes.
TAPIT CDR Loader – provides TAPIT EX with the ability to integrate with PC-based and IP-based phone systems such as Altigen, 3Com, Avaya IP Office and others.
NO SMDR Alarm – notifies users there is an interruption in a call data flow.
The NO SMDR Alarm application also tracks up to 8 phone numbers and triggers the alarm when any of them is dialed.
Click here to open the NO SMDR Alarm help file in the Adobe Acrobat format.
Remote Client Collection Software for SMDR/CDR Data
(For Remote Manager WAN Applications) – replaces buffer box.
Remote Manager supports up to 100 remote locations.
New TAPIT "Special" Reports.
New pricing features.
Real-time data collection
Supports all telephone systems with CDR/SMDR output capabilities
Multi-user support version available (Up to 255 users)
Call editing capability
Capable of processing 7 digit numeric extensions / 8 digit alpha-numeric trunks
Automatic Report Scheduler
Numeric Caller ID reporting
Export to time and billing packages
Support for Client Account or User Authorization codes
Multiple extension per User
E-mail reports in Text, Rich Text and Hypertext (HTML) file formats
Save reports to HTML files to publish on your Web site
Minimum System Requirements:
Pentium™II based PC
128 MB RAM
MicrosoftTM Windows 98/NT/2000/XP Professional/2003
250 MB free disk space
CD-ROM Drive
One RS232 port connection to the PBX® SMDR port
Printer driver must be installed on your system
Power Management feature of your system must be disabled
Downloadable DEMO (30 Day Trial) Version
Tapit EX – DEMO version ( 80MB )
This file will extract to a folder C:\TrisysCD. Please view Readme.txt and run Startup.exe from that folder to install the Tapit EX Demo version.
TAPITEX is an MS PowerPoint® presentation slide show recommended for PC's with above average to fast connection speeds (ISDN / T-1). May require MS PowerPoint® Viewer available here.
Download of Tapit EX PowerPoint® Demo
Sample Reports
End User Training Presentations
End User Training is now available in the form of an MS PowerPoint® presentation slide show which is viewer paced and is narrated to provide the most content in the smallest package.
To download and install to the computer you are currently on click EUT and then click Open. To download and install on a separate computer click EUT and then click Save. The saved file, EUT.exe, can then be copied to another computer and installed there by running EUT.exe. The presentation will install to the C:\Tapitw32\Eut\ folder. To run the presentation, after the first time, open Eut.htm.
Contact ComRes today to start saving money on your telecommunications!
| | |
| --- | --- |
| E-mail: | |
| Call: | (877) 379-9600 |
Sign up for our Newsletter!