Solution Overview
The Mediatrix® 4100 access devices are high-quality and cost efficient VoIP gateways connecting larger branch offices and multi-tenant buildings to an IP network, while preserving investment in analog telephones and faxes.
The Mediatrix® 4100 access devices allow Service Providers to deploy rapidly and economically their solutions in medium-size premises and they are the ideal solution for branch office connectivity to larger private networks.
Key Features
Optimized common platform:
The 4100 Series offers a newly designed Mediatrix hardware package for VoIP FXS Interfaces.
Extended range of port density (4, 8, 16 or 24 FXS)
Hardware ready to support Security (SIPS/SRTP)
Secure Management: Intelligent PSTN bypass allows Mediatrix 4100 users to make emergency calls and maintain their phone service in the event of a power outage or network failure.
Enhanced Telephony Features: All of the 4100 Series offers advanced features such as: Call Forward / Call Transfer / 3-way Conference Call /Call Waiting / Caller ID on Call Waiting / Call on Hold / Caller ID display (Clip)
SIP leadership: Mediatrix and its sister division M5T are pioneers in SIP protocol, offering multi -vendor interoperability e.g. Broadsoft, Shoretel, etc.
Friendly User Management: The Mediatrix 4100 Series is very easy to understand, configure, and deploy. The web interface is designed to provide a clean and user-friendly configuration window so users won't get lost in complicated menus and maintenance.
Auto provisioning: Managing multiple devices deployed over a Network is made easier with the use of auto-provisioning feature. Once deployed, the units can automatically poll remote servers to query for new software upgrades or new configuration files.
This enables service providers to remotely activate
new services and lower their Total Cost of Deployment.
---
Target Markets for the 4100 Series
Enterprises with branch offices and remote offices, including SOHOs.
Enterprises looking to deploy from as few as 4 FXS Ports to as many as 24 FXS Ports
Enterprises seeking access to the benefits of Voice over IP without discarding existing legacy equipment.
Enterprises wishing to implement Voice over IP through a gradual, transparent and cost-effective migration.
Multi-tenant / multi-dwelling units and premises wishing to implement Voice over IP while maintaining existing wiring and handsets.
Enterprises looking to implement secure RTP (SRTP) and Secure SIP (SIPS) in 2007
Mediatrix 4100 Series Hardware Models
VoIP Solutions To Meet Your Needs!
4124: 1 RJ-21X TELCO 25 pairs connector
4116: 16 RJ-11 connectors
4108: 8 RJ-11 connectors
4104: 4 RJ-11 connectors
---
Top Questions asked by Companies Wishing to Deploy VoIP Solutions.
How Much Does the Gateway Cost?
The 4100 Series is priced highly competitively; our price point is lower than most manufacturers or vendors.
Is the Gateway Hardware- or Software-based?
Most companies prefer to buy hardware-based gateways because they're perceived to offer stronger security protection, are more reliable, don't rob computing power and provide better connectivity.
What Are the Upgrade Options?
As the companies VoIP system grows, they'll probably need additional ports and other features. There solution will also need to be able to integrate new VoIP standards appearing over time.
Mediatrix 4100 Series are highly configurable and are able to expand as your company does.
R&D is always at the forefront for Mediatrix, combined with the industries leading SIP-based applications provider in its sister company M5T.
The Mediatrix 3500 is a member of the Mediatrix 3000 Series that includes many hardware provisions to support future upgrades like IP Data routing and All In One Convergence.
What Type of IP Connectivity is Included?
The 3500 Series uses the SIP standards-based protocols to establish and maintain VoIP connections. The SIP protocol provides the most efficient functionality to allow end users to place and receive VoIP calls.
On the ISDN side, the PRI interface currently offers NI-2,5ESS and DMS100 but additional software protocols are foreseen.
Is the Gateway Compatible With My Current VoIP System?
The 3500 Series is interoperable with a variety of leading technology providers, including among others Broadsoft, Asterisk, PBXnSIP, and Comdasys.
What Type of Support Do You Offer?
Pre-Sales Engineering Services:
Respond to technical queries on products and applications.
Assess VoIP network designs.
Test configurations for suitability.
Post-Sales Technical Assistance Center
Remote Support: Remote support by telephone, email and Instant Messaging.
On-Site Support: Can be arranged through the TAC.
Off-hours: TAC Services are offered as an option 24×7.
---
Applications
PSTN Gateway for IP PBX
SIP Trunking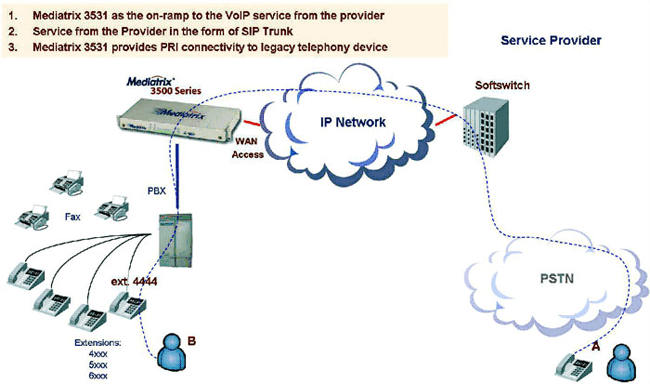 More Information:
Contact ComRes today to start saving money on your telecommunications!
| | |
| --- | --- |
| E-mail: | |
| Call: | (877) 379-9600 |
Sign up for our Newsletter!